Master KC Li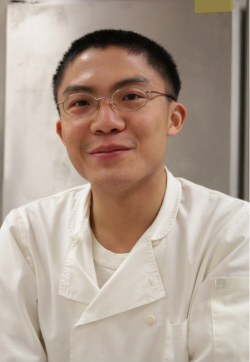 Levain (Sourdough) = lactobacilli + yeast + long fermentation period

An avid bread-lover, KC Li found the breads in Hong Kong largely unsatisfactory. Even though there was a dizzying number of options, the products themselves were light and airy and reeked mostly of dried yeast, vanillin and/or various enhancers. This was very unlike the breads he had overseas which were taste-rich in the very ingredients they were made of and hearty with every bite.

Armed with a M.Phil. in Physics, KC proceeded to conduct his own experiments to make bread that were not only authentic but free from artificial enhancers. He first started in his home kitchen and then continued as an apprentice at a local franchise. Over two years, he isolated variables and understood the key fundamentals of making bread. As he mastered Hong Kong style breads, he decided to take on the challenge of making traditional European breads. Authentic traditional European breads are made only with flour, water, salt and wild yeasts, and also demands technical mastery to achieve a great product.

Together with a keen entrepreneurial spirit, that was how Levain came about in 2009.

Today KC specialises in artisanal European breads such as sourdoughs, crusty French breads and delectable pastries and, continues to refine his techniques in baking.
---
---
...is he who prepares our daily bread: the nearest baker who does not imagine himself to be a god. He does his majestic and unpretentious work of kneading the dough, consigning it to the oven, baking it in golden colours and handing us our daily bread as a duty of fellowship...

- Pablo Neruda, 1971