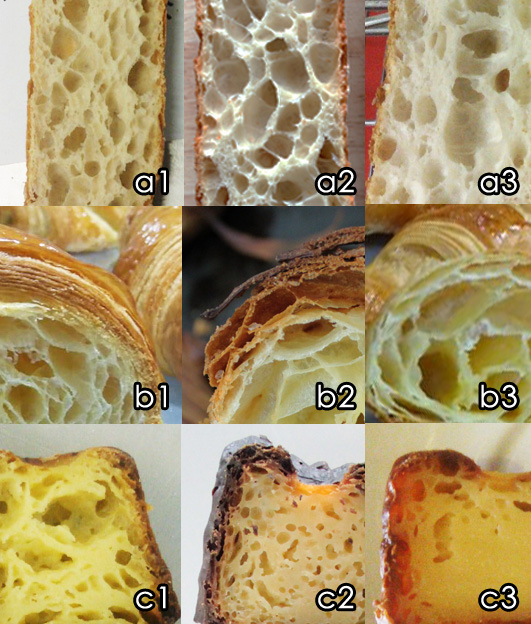 The answer is yes and no.

答案是可以...及不可以。

NO you cannot tell the flavor of anything just by the look of it. But YES you can tell the texture of the food by looking at the cross section of it. The texture of a bakery product is mainly based on two things:

不能單靠外表斷定的是味道。可是食物的質感憑其切面的形態可得知一二。烘焙產品的質感取決於兩樣事情﹕

1. The chemical composition of the product

2. The microstructure of the crust and the crumb

1. 成品的材質

2. 表皮及內層的微結構

When it comes to the texture, the product microstructure is more important than its composition. Without a suitable structure, usually a honeycomb structure, the product veers from a flaky and crunchy texture to an undesirable chewy and rock-hard one.

微結構對於烘焙產品的質感影響較材質更大。沒有合適的結構(一般如蜂窩狀)質感可以由酥脆、爽脆、變成耐嚼甚至堅硬。

In all cases, there must be a small vacancy that separates the crust from the crumb. The separation makes the following possible:

在所有個案中,表皮與內層都會由一些細少的空間所分隔。這分隔起到如下的作用﹕

1. During baking, the heat transfer from the crust to the crumb is slower

2. During baking, the crust can be baked more thoroughly than the crumb

3. After baking, diffusion of the moisture from the crumb to the crust is slower

1. 在烘焙的過程中,由表皮傳熱至內層的速度減慢

2. 在烘焙的過程中,表皮比內層烤得更透徹

3. 烘焙後,水份從內層擴散至表皮的速度減慢

The above are the main criteria if the crust is going to be crispy and stay for how long in ambient environment.

以上過程對於外皮是否脆及在大氣環境下維持脆的時間起著關鍵作用。

Then we need to go into details about the thickness of the crust. If the crust is too thick and is mainly composed of flour, then it will be too hard to chew on. If it is thin like paper (fig. b3, c3), it will absorb moisture too quickly and lose its crispiness. A decent thickness is when the crust is one or two tiny bubbles thick (fig. a2, b2, c2).

然後,我們要仔細分考量表皮的厚度。假若表皮過厚而構成的材料主要是麵粉,結果是口感過於堅硬難以嘴嚼。假若表皮太薄如紙一般(圖b3、c3),表皮又會太易受潮而提早軟化。一般當表皮中有一到兩個小氣泡時厚度最為合適(圖a2、b2、c2)。

The crust texture can also be altered with the addition of other ingredients. A common addition is fat (fig. b1-b3) as it shortens the gluten chain and thickens the crust slightly. This results in a flakier and crunchy crust - provided that the crust is thick enough and thoroughly baked. Another common method is to have egg white and sugar to create the crust (fig. c1-c3). This can increase the crust thickness to a point where it becomes crispy and crunchy like rock candy.

當表皮的材料包括油脂(圖b1-b3),因油脂將蛋白鍊切斷令其更酥脆,表皮厚度能稍微增加,在有足夠的厚度並確實的烤透的前提下,甚至能成為爽脆的口感。當表皮有足夠的蛋白及糖(圖c1-c3),厚度甚至能提升至使表皮擁有如糖果般的硬爽脆。

In a bid to achieve a beautiful crumb, a common mistake is to create big bubbles in the middle of the crumb while the crust remains attached to it (fig. a1, a3, b1, c1). Unless the baker intends to pipe fillings within the product, this does not serve any purpose. It is also futile if the product is underbaked, a common problem when the crust is about the same color as the crumb (fig. a1, b1, b3). This leads me to another topic - whether we bake our bread too dark at Levain…

除非你希望在內層中空的地方注入餡料,否則在只在內層製作出大氣孔而不及分佈至表皮使之與內層分雜實在是毫無意義的(圖a1、a3、b1、c1)。烘烤不足使表皮與內層的色澤相近後果更是慘不忍睹(圖a1、b1、b3)。這帶出了我們另一個討論主題,就是我們天然酵母麵包店的出品顏色是否過深...