English Pan Bread
A traditional English pan bread is made with the addition of cream but no eggs. Soft and fluffy with a slightly sweet flavour, the English pan bread is highly versatile, making it a popular meal staple.

Baguette
Making the perfect baguette can be a lifelong journey. You can ask KC as the only constant in his 7-year baguette journey is change and more change.
Our ideal baguette is one made with only flour, water, salt and yeast, with a distinct russet crust, many consistent large open cells and a strong flavour of wheat.

Join us and work on your technique to make your very best baguette!

Festive Classes
*This is a two-day class. We will be doing pre-baking steps for panettone on the first day. On the second day, we will be making the stollen and baking both products.
Panettone
Making a panettone, a sweet bread loaf with dried fruits, takes about three days using sourdough (the first day is for the starter's development). Even though its popularity only took off in early 20th century Milan, there is evidence that it was made even during Roman Empire times. The panettone has a light, fluffy, smooth texture, a distinctive sweet, tangy flavour and has liquor-soaked dried fruits peppered throughout. This is traditionally eaten during Christmas and New Year period.

Stollen
A dense and moist fruit bread traditionally eaten in Germany during the Christmas and New Year season. The dough is flavoured with liquer-soaked dried fruits, nuts, spices, butter and finally covered in icing sugar. Its origins can be traced all the way back to the 15th century.

英式方包
傳統的英式方包有添加忌廉但沒有加蛋。 它鬆軟的質感和帶微甜的香味,容易配搭各種早午餐食品, 所以深受大眾歡迎。

長法包
能製作一完美正宗的長法包可以是一漫長道路. 就從KC過去七年製作長法包的經驗,他現今的配方和方法其實已經歷無數次失敗後修正及改良。
我們理想的長法包祗需麵粉,水,鹽及酵母就可造出一外脆內軟口感,大孔洞,和充滿濃郁小麥香味。
請参加我們的長法包專題教班一起研習。

佳節班
*這是一個需時兩日的麵包班。 第一日, 我們會準備意式水果麵包的麵糰。 第二日, 我們會完成Panettone的製作及德式史杜倫製作。
意式水果包
使用天然酵母製作這香甜鬆軟,充滿數種乾果的意式水果包, 須要三天完成(之前首天是用來培植天然酵母麵種的). 雖然它祗是從二十世紀於米蘭才受歡迎,但有証據說它是源自古羅馬帝國. 意式水果包的鬆軟綿密口感,獨特的甜蜜香味,再襯以以酒浸漬過的乾果, 實使人一食就停不了口. 它是聖誕及新年期間的節日美食.

史杜倫
它是一個質地緊密而濕潤,充滿果香的德國傳統聖誕及新年期間餅食. 內含乾果先行以酒浸漬, 再加上堅果,數種香科,牛油,及出爐後再以厚厚糖霜覆蓋,單是外觀已令人垂涎. 其歷史可追溯至十五世紀.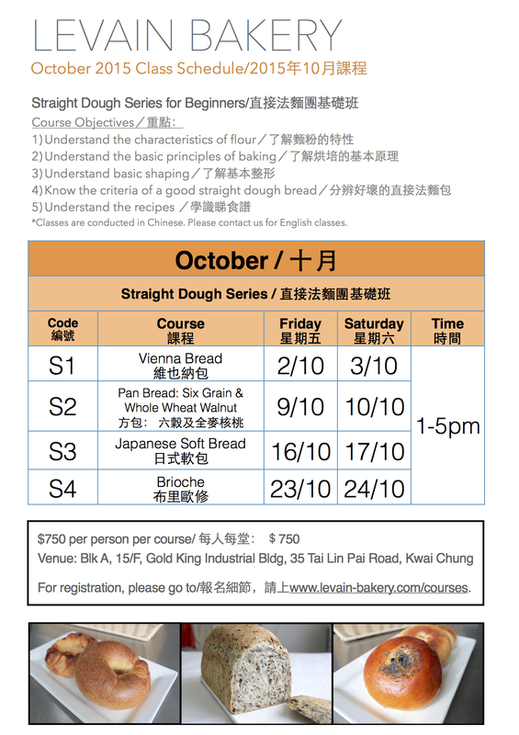 Vienna Bread
Invented in Vienna when fine white flour first became more widely available and it has remained popular ever since. Best suited for savoury fillings.
Pan Bread: Six Grain & Whole Wheat Walnut
The iconic breakfast item, try your hand at the semi-sourdough pan breads!
Japanese Soft Bread
The most common bread we have in HK is the Japanese soft bread. This bread goes well with sweet fillings.
Brioche
Richly enriched with eggs and milk, the brioche has a very fluffy texture with intense egg flavour. A French classic!

維也納包
維也納包是我們熟悉的鹹港式麵包麵糰。 當間1840年的包又粗又硬所以鬆軟的維也納包深受歡迎。
方包:六穀及全麥核桃
好多人早餐都不可缺少方包。 用半天然酵母及半乾酵母做成的方包有較多質感, 麵包味較濃又無蛋無奶。
日式軟包
一般普遍的港式包都是用日式麵包麵糰做成。 這類包適合配搭甜陷。
布里歐修
含有大量的蛋和奶油, 布里歐修包非常鬆軟, 帶有濃郁的蛋香。這是個傳統的法式麵包!